Glanway "Waste nothing" MSW Processing Plant
skip hire
,
Irish Recycling Plant
,
Plant Service
,
screens
,
waste materials
,
non-ferrous
,
Waste
,
Recycling Industry
,
Glanway
,
mixed dry recyclables
,
Recycling Facility
,
ferrous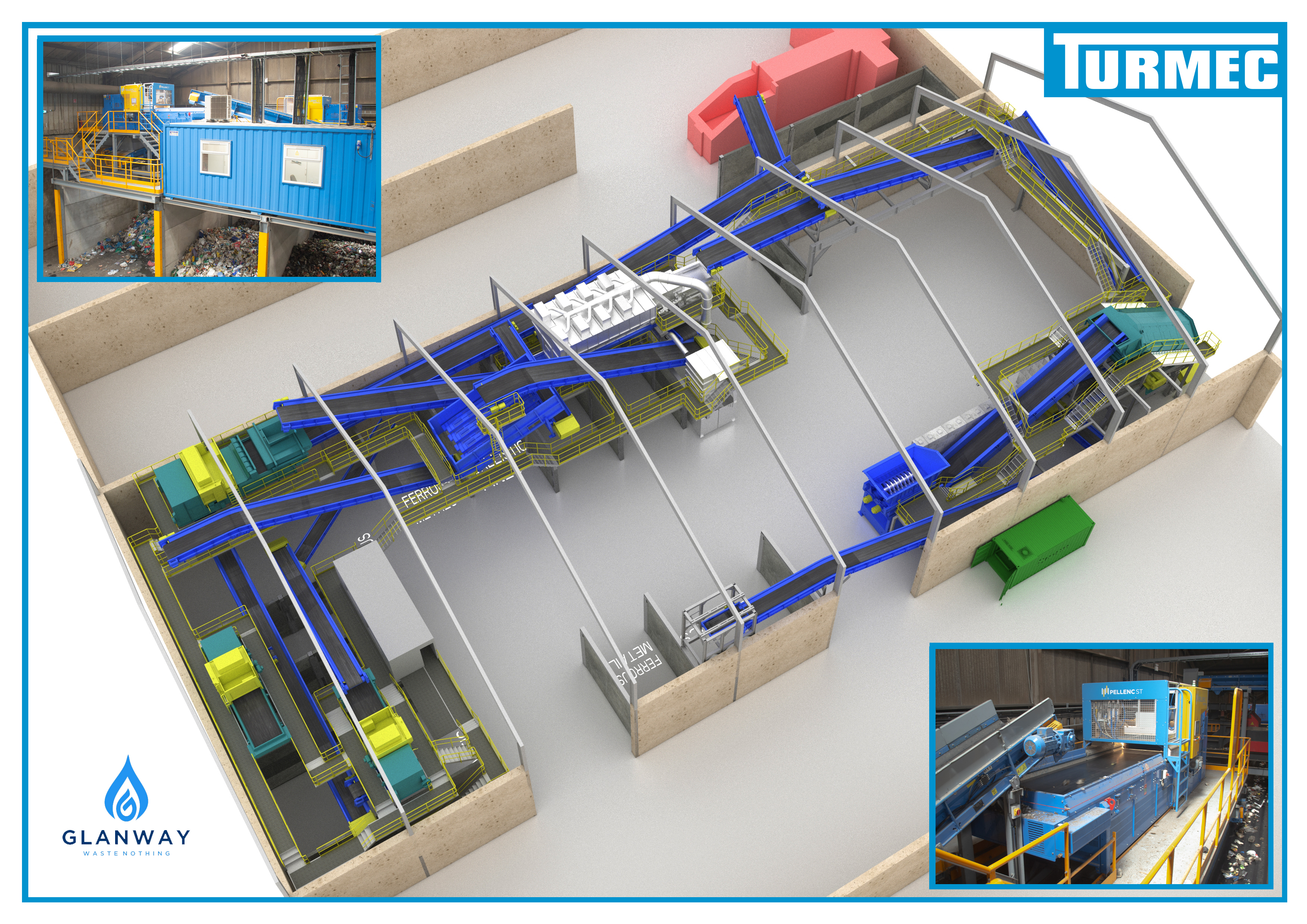 Glanway Waste based in Belview Port, Waterford, Ireland commissioned Turmec with the construction of new Municipal solid waste (MSW) processing plant. Having operated a smaller scale MRF for a number of years, Glanway had outgrown their existing facility and required a larger, more efficient facility so that the company could grow even further.
Utilising some of the existing equipment, Turmec built an intricate design around a difficult building. Like many of Turmec's installations, keeping the waste moving was key to this project and Turmec and Glanway worked closely to maintain operations as much as possible throughout the build, phasing the installation so that both companies worked in different area's of the building.
The plant is capable of processing nearly twice the throughput of the previous installation, and with the help of a Nihot, Single drum separator, and Pellenc Optical sorters, the new plant is much more efficient and recovers –
Organics

Ferrous,

Non ferrous.

PET Plastics.

HDPE Plastics,

SRF Ready Fuel.

Baled and Wrapped RDF.
Now since 2020 the Residual waste from households across the south of Ireland will be recovered as recyclate and sustainable fuel in a new and more efficient facility.
Glanway's 133,000 tonne per year, 45 TPH pre-processing and export facility (MSW waste) is located 150m from the Bulk and Container Terminals in Belview Port, Waterford. Allowing for very efficient loading of container and bulk vessels minimizing haulage and handling while maximizing bale and fuel quality and Turmec is delighted to have had some small part in assisting with the increased efficiency.