Turmec wins a contract to provide advanced RDF processing capabilities for Sharp Skips at Rainham, Essex East London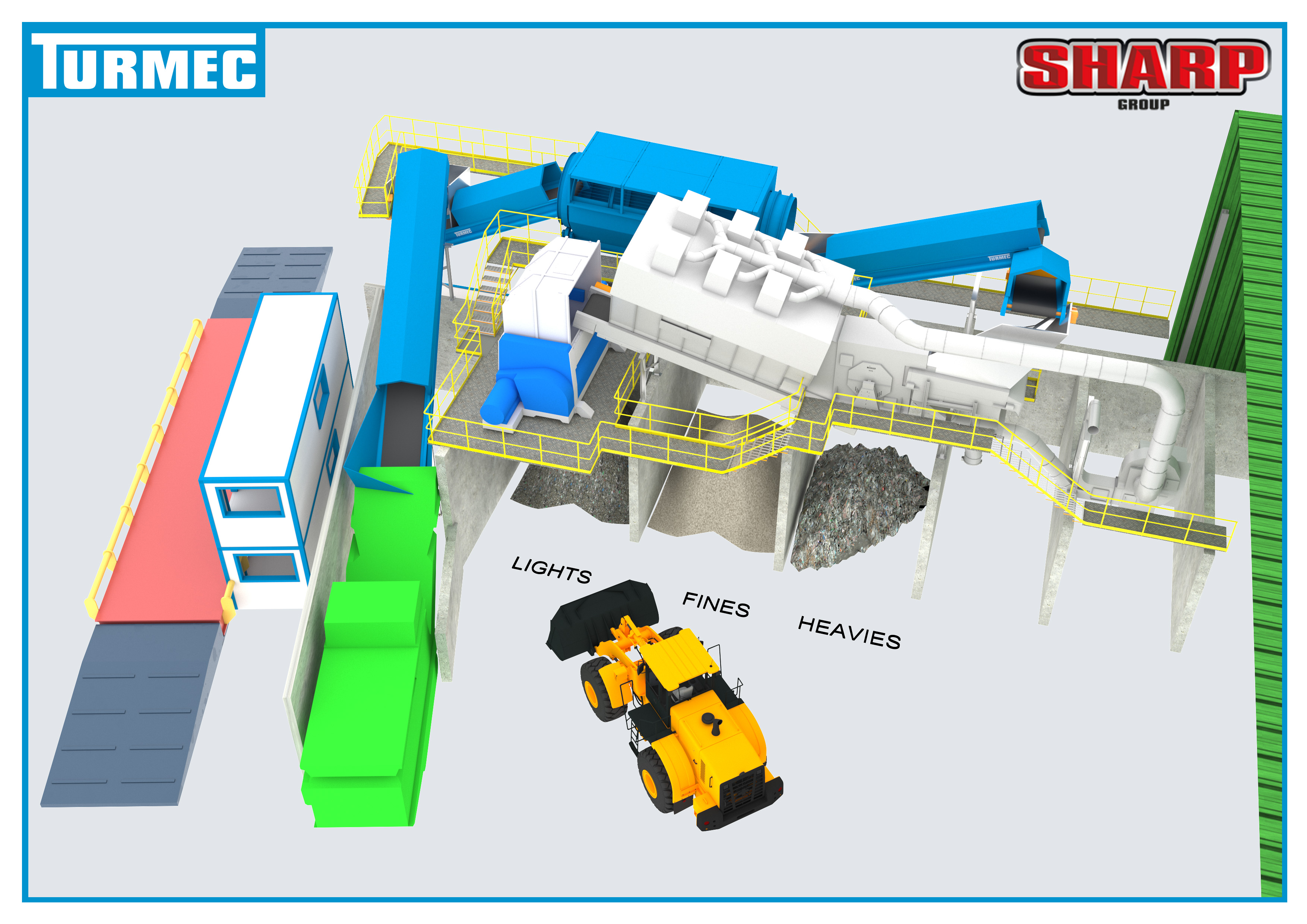 Turmec, the market leader in designing, building and installing waste processing and recycling solutions, is delighted to announce that it has been awarded a significant contract by Sharp Skips Ltd to design and install an advanced waste processing unit at their flagship facility at Rainham, Essex East London.
Sharp Skips chose Turmec because it is known for developing bespoke solutions for its clients. The challenge was to enhance an existing process to produce a refined Refuse Derived Fuel (RDF) for use in energy generation. The Turmec design has made best use of existing equipment and the limited space available. The new process has a capacity of 20 tonnes per hour and will significantly improve the quality and value of the (RDF) produced.
Established in 1983, Sharp Skips are market leaders and a 'go-to' provider of waste management services in the Rainham area with the goal of achieving zero landfill by processing a range of waste streams. They provide skip hire, wheelie bin hire, grab-loader and container hire services to business, builders and households in East London, Essex and Kent.
Commenting, George Sharp, Director, of Sharp Skips, said:
"We strive to ensure that we provide the most up-to-date waste processing technologies. Our goal to maximise the quality and value of processed waste so that it can be reused, and not end up in landfill. Refused Derived Fuel is an important product and, with this investment, we will increase our RDF processing capacity and the quality of the RDF we can produce. We are delighted to have the Turmec team support us on this journey."
Commenting, Turmec Technical Sales Manager, Paul Godfrey, said:
"Sharp Skips is a remarkable family business, built up over four decades and providing exceptional service to its customers in the south-east of England. They have a clear focus on preventing waste going to landfill. The most effective way to do this has always been to increase the quality and value of products to be sold to recyclers. We are delighted to have the opportunity to work with Sharp Skips on this project."
About Sharp Skips – Founded in 1983, Sharp Skips are market leaders in the south-east providing a range of waste services to its customers in London, Essex and Kent with the goal of zero-to-landfill. We provide roll-on-off container hire, skip hire and grab loader hire, with same-day delivery. Sharp Skips was founded by Tom and Terry Sharp with the support of their father, Tom Sharp Senior.
About Turmec – Established in 1972, Turmec is a leading provider of materials handling and recovery solutions to the waste processing sector internationally. It specialises in the design and build of complex waste separation and processing systems which are critical for large-scale, efficient waste processing and recycling plants. Turmec serves some of the largest waste management companies globally including Biffa, Suez and Powerday in the UK, Thorntons Recycling in Ireland, and Rino Recycling and Bingo Industries in Australia. The business employs 100 people operating from its 66,000 sq. ft manufacturing facility at Rathcairn within the Irish-speaking Gaeltacht area of County Meath. Turmec is a client company of the Irish business development agency, Údarás na Gaeltachta. Irish private equity fund, Causeway Capital, is a cornerstone investor in Turmec Teoranta. The Irish Strategic Investment Fund is, in turn, an investor in Causeway Capital.
To learn more, go to www.turmec.com
For media inquiries, please contact
Turmec
brigid.manley@turmec.com , +353 (0)87 992 1993
OR
Cunningham/Devlin
jim@cunninghamdevlin.ie, 087 2631057