Hills' advanced Materials Recycling Facility (MRF) goes live in Wiltshire
News
,
recycling
,
plastics
,
Turmec
,
kerbside waste
,
Recycling Solutions
,
household waste
,
HDPE
,
Waste Management UK
,
PET
,
plastic bottles recycling
,
commingled recyclable materials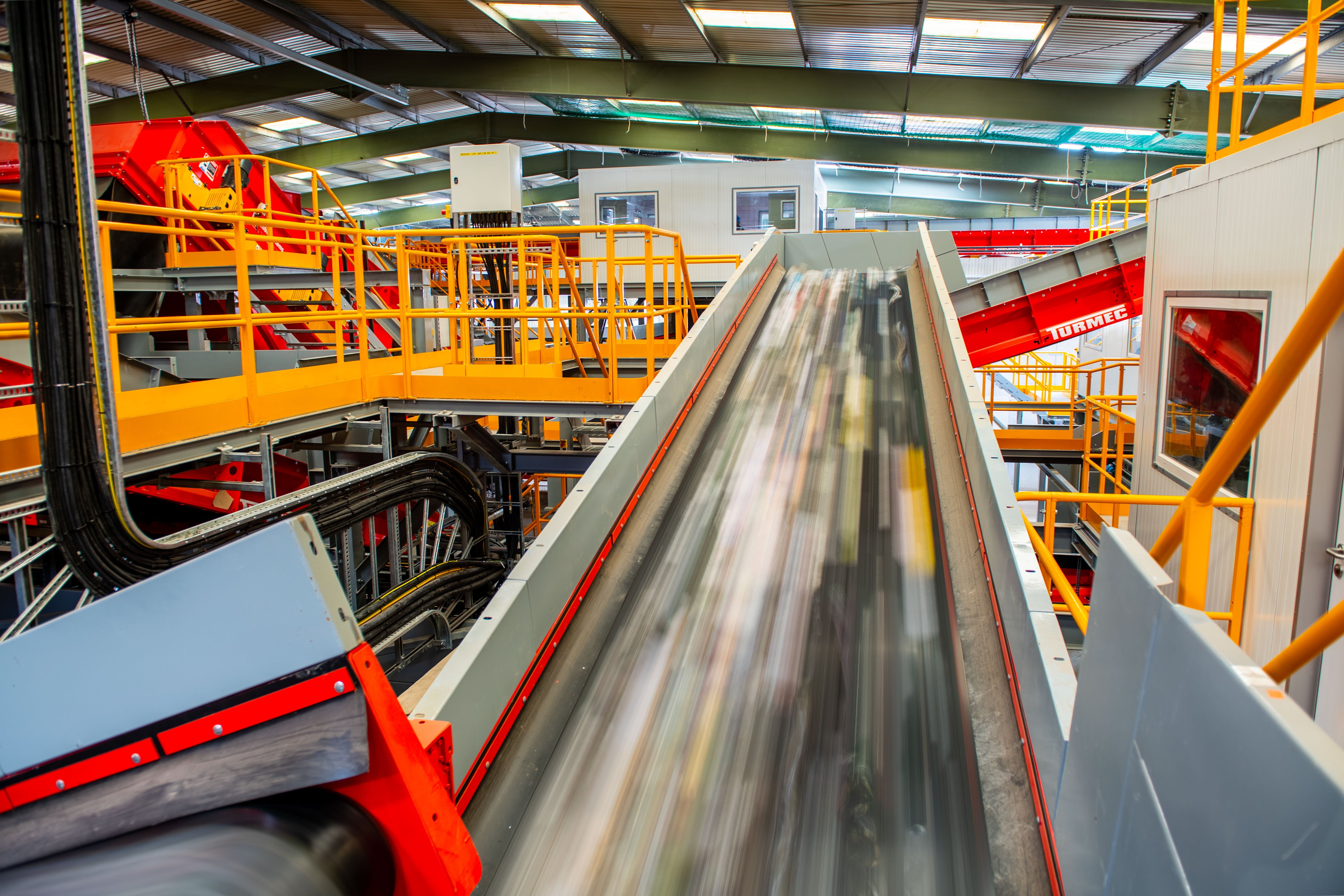 Waste collected from households across Wiltshire is now being recycled at a new facility designed and built by Turmec.
Hills Waste Solutions began operating the MRF on 9 March. Located at Sands Farm in Calne, the facility treats commingled recyclable materials collected at the kerbside by Hills from around 220,000 households under a contract with Wiltshire Council, one of the largest unitary authorities in England.
When fully commissioned, the advanced MRF will be capable of processing up to 20 tonnes per hour of dry mixed recyclables. Turmec equipment includes various screens with optical and magnet elements to maximise the recovery of paper, cardboard, plastic bottles (PET and HDPE), plastic pots, tubs and trays, cans (steel and aluminium), and food and drink cartons.
The MRF's plant and personnel are geared to recovering materials of the highest quality for reprocessing. Hills Recycling Manager Henry Newbery explained: "The commingled recyclables are sorted in a single pass into 10 separate products for recycling. The plant has been designed to achieve high standards in all products – in excess of 98% purity."
All incoming material is loaded into a bag splitter that opens the bags and loosens the material before it's fed onto the sorting line. A quality control station ensures the suitability of material feeding the plant, where it's sorted via a series of screens into cardboard and paper, cans and cartons. Cardboard and paper undergo further sorting into three grades.
Plastics, cans and cartons are separated using screens, optical separators, magnets, eddy currents and further picking stations before the final products drop into gated storage bunkers. A central conveyor moves all materials from bunkers to the baler.
"This project has been in the making for quite some time now and it is a pleasure to be near the point of handing this plant over to all involved. There has been great teamwork and collaboration between all parties (Turmec, Hills and WC)" says Brian Thornton, Turmec's CEO. "I wish Hills and Wiltshire Council many years of success in the operation of the facility at Sands Farm and I have no doubt that Wiltshire will benefit the most from the increased recycling rates across the county."
Turmec has over 50 years of experience in the engineering and recycling industries. We plan, consult on design, manufacture and install recycling plant solutions and recycling equipment. Our design engineering division services a range of industrial sectors such as mining, power generation, construction, marine, environmental and more.
Our waste processing solutions include Construction and Demolition waste processing (C&D) , Dry Mixed Recycling (DMR), Solid Recovered Fuel (SRF) waste, RDF waste processing , MSW recycling solutions & more.
We also offer recycling services and recycling machinery like tyre recycling machines, glass recycling machines, industrial composting machines, mobile eddy current separators as well as used recycling equipment for sale. With over 50 years' experience Turmec is dedicated to finding the best recycling engineering solutions for their clients' requirements. Contact us for free expert advice now.