Double honours for Turmec in the MBTA 2019
News
,
MBTA
,
Turmec
,
Recycling Solutions
,
Meath Business
,
climate action
,
Business of The Year
,
Green Ambassord
,
Waste Industry
,
Meath Business and Tourism Awards
,
landfill diversion
Turmec has been honoured for its role in advancing sustainability and its significant contribution to the local economy in Ireland.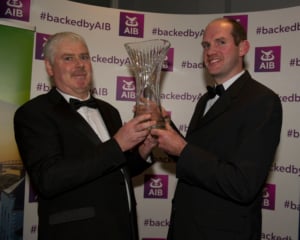 The Meath Business and Tourism Awards, now in their 10th year, celebrate companies based in the county who have excelled in their sectors.
Turmec has won twice in this year's awards; the company was named Green Ambassador for its work in diverting waste away from landfills and also awarded the overall Business of the Year in the MBTAs.
Plants built by Turmec across the world have diverted more than 43 million tonnes of waste to productive uses. The company was also recognised for its global reach and go-to-market strategies for countering the impact of Brexit.
The judges were impressed too by Turmec's focus on research and development in waste management and recycling, solutions for safe disposal of waste, and how the company salvages components for re-use.
Half of Turmec's work involves upgrades to existing plant and facilities, with projects ranging in value from €10,000 to €5 million and the remaining work is on turnkey solutions and a variety of after-sale services.
"Turmec has been operating out of Meath for a long time and many people will know it for its work in the engineering industry in Ireland but some may not know that we have had to diversify into different markets to survive through hard times over the years," said CEO Brian Thornton.
"Our main focus over the last 20 years has been in the waste industry and waste is an ever-changing industry, which means we have to be constantly innovating and evolving, to continuously offer our clients the best solutions to their needs, keeping them ahead of current legislation and the high demand within the waste sector worldwide, that has been accelerated in light of the climate action focus. We couldn't do this without the fantastic people that work in Turmec or without the help of the many partners we have around us that have helped us over the years."
Turmec was also commended in the annual Irish Export awards, having been shortlisted again for 2019, after winning the Medium Size Exporter of the Year award last year.