Turmec's State of Art Waste Recycling Facility for Thorntons Recycling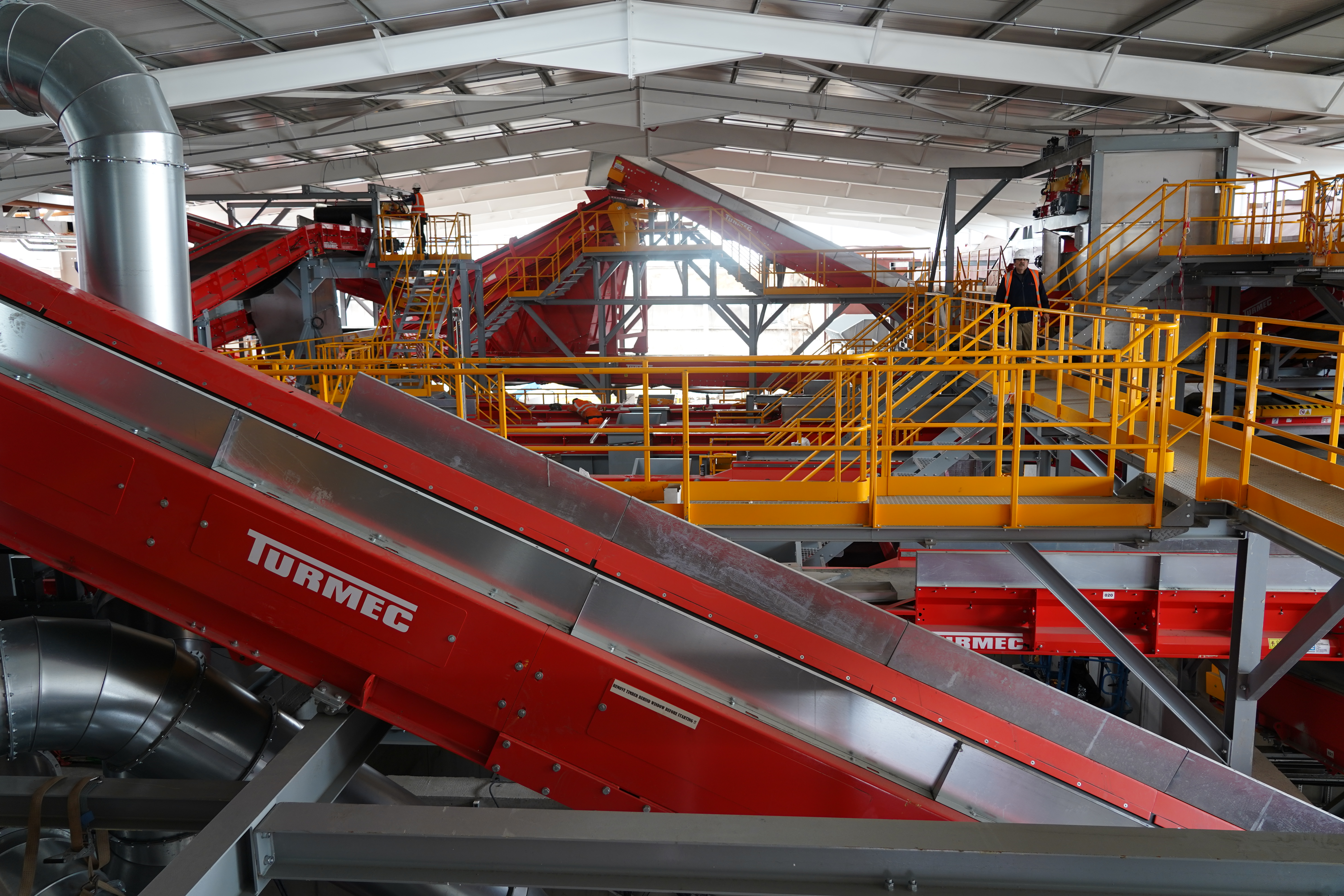 Thorntons Waste Recycling Plant Killeen Road Dublin
In January 2021 Thorntons Recycling suffered a major fire at one of their largest processing Waste Recycling Plant facilities at Killeen Road in Dublin. This fire was devastating and required a total re-instatement of all equipment within the fastest time possible to minimise business interruption.
Thorntons Waste Recycling Plant Design Objectives.
This gave Thorntons an opportunity to build a new waste recycling processing line that was:
Designed to maximise segregation and recycling

Availed of the best available sorting technology

Purpose built to suit the waste and needs of Thorntons Recycling

Designed to fit into the previous building footprint

Was reconfigured to allow Thorntons to move potential odour material to a better processing location on site

That was energy efficient and reduced emissions
Thorntons recycling went to tender looking for a partner to design, procure and build a plant for them that would support their existing business where they serve over 80,000 customers each day, and improve efficiencies.
In March 2021 Turmec were awarded the contract to deliver a plant with a throughput rate of 100 tph comprising of 60tph C&D (Construction & Demolition Waste) and 40tph MSW (Municipal Solid Waste). The plant separates metals (ferrous & non-ferrous) from MSW materials received and produces SRF from low grade paper, cardboard, and plastic.
Turmec's Waste Recycling Plant Solution for Throntons
Thorntons requirement was to recycle and recover as much material as possible from the mixed waste recycling it collects and processes thus diverting waste away from landfill. Turmec designed a highly automated, bespoke plant for Thorntons that minimised the operating footprint and recovers the high value materials suitable for recycling, produces an SRF grade refuse derived fuel from the paper, plastic, cardboard, and timber not suitable for recycling and keeps the residual bound for incineration or landfill to less than 5%.
The primary materials recycled are wood, metal, hard plastics, and tyres. The main items recovered are stone, aggregates, soil, inert fines and SRF (comprising timber, soiled paper, cardboard, and plastic) By turning this material into SRF Thorntons Recycling are producing a sustainable, valuable product that assists with reduction in dependence on fossil fuels, reduces CO2 emissions and diverts materials away from landfill.
The overall rebuild project consisted of the re-instatement of new buildings, yard space as well as the Turmec supplied plant. To ensure the project was delivered in the shortest possible time, Turmec worked closely and in conjunction with the civil and electrical contractors to complete the project within the agreed timeframe.
Turmec designed and installed the new state of the art facility within 9 months from order. All components of the installation are fully CE marked to all the relevant European safety standards.
Waste Recycling Plant Solution

Results/ Outcome
The project was delivered on budget and on time, with minimal impact on the Thorntons business. Thorntons Recycling have transformed their business and the way they now process waste material on the site.
Thorntons Recycling now have the most efficient and effective plant, with the most innovative configuration and technology in Europe. This increases the efficiency of waste handling and improves waste segregation, assisting Thorntons to continuously achieve over 95 per cent recycling/recovery as well as being able to process C&D, C&I and MSW for the Greater Dublin Region.
"Turmec has provided Thorntons with a quality solution. From the time the plant was initially designed and ordered until it was commissioned Turmec kept the Thorntons team up to date and appraised of all the issues and progress of the project. Working together everybody achieved more and brought the installation in on time and within budget. I would like to thank Turmec and the other contractors involved in this project for their dedication and effort in getting the facility reopened in such an expeditious and safe manner" Gary Brady CEO Thorntons Recycling.
"The new processing line was designed for optimum segregation and recycling, availing of the best available sorting technology. Having the site designed and purpose built to fit to the existing footprint allows us to process our recycling materials with improved efficiency and preferred area designation. The sheds were rebuilt using cutting-edge technology for better integrity and sealing to prevent escape of air from the shed. The entrance/exit points are fitted with rapid roller shutter doors and modern odour abatement technology." David Duff EHS Manager, Thorntons Recycling