Bespoke Recycling Plant Upgrade Completed Amid Covid Constraints
News
,
mixed paper
,
Turmec
,
recycling plant
,
Recycling Solutions
,
MDR
,
waste management
,
Turmec UK
,
MRF
,
plastic recycling
,
HDPE
,
Waste Management UK
,
PET
,
AES
,
plastic bottles recycling
,
commingled recyclable materials
,
Recycling Industry
,
landfill diversion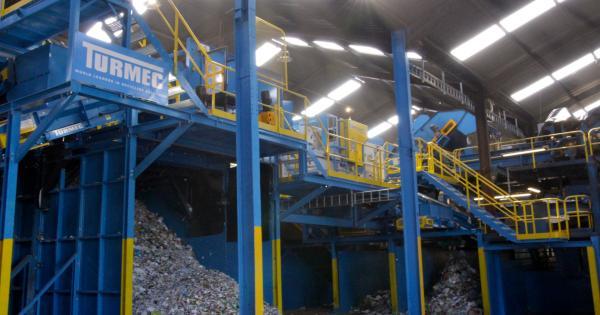 Recyclable materials from across Ireland are now being processed at a revamped recovery facility in Tullamore, County Offaly.
The upgrade for our long-standing client AES Bórd na Mona was completed recently by Turmec, despite the constraints of the coronavirus controls, in under four weeks.
Using high-tech mechanical and manual sorting processes, more than 40,000 tonnes of materials can be segregated at the facility in a year. These recovered materials are then baled and sent to secondary processors and pulp and paper mills.
Part of the semi-state Bórd na Mona group, AES is a national waste management contractor operating collection services and depots across the Republic of Ireland. AES serves more than 130,000 domestic and 5,500 commercial customers.
Mixed dried recyclables are delivered to Tullamore in walking-floor trailers; the highly efficient sorting process employs a series of ballistic separators, disc and ONP (office and newspaper) screens to separate plastic film, paper, cardboard, plastic bottles, cans, stone, wood and other materials.
Metals are extracted by a ferrous metal magnet, while an eddy current is used to separate non-ferrous and aluminium metals. A vibrating screen spreads materials passing on the conveyor so that plastic tubs and trays, HDPE and PET bottles and mixed paper can be removed by a triple eject optical sorter. Another optical sorter then identifies and separates the HDPE and PET bottles.
The plant is fully operational and Ciaran Brady, Head of Resource Recovery Bórd na Mona, thanked Turmec and the AES team for their hard work during Covid-19 to finish the upgrade.
"Our latest bespoke plant upgrade has allowed AES to significantly improve its processing capabilities at Tullamore," said Turmec Service and Support Manager, Robert Thornton. "The plant efficiently recovers high-quality materials – from plastic film and bottles to metals, corrugated cardboard, and hard and soft mixed paper. It has been a pleasure working with the AES team to finalise this project for our long-term client."
Follow the links to see some of Turmec's other projects for AES and Bord na Mona.
Turmec has over 50 years of experience in the engineering and recycling industries. We plan, consult on design, manufacture and install recycling plant solutions and recycling equipment. Our design engineering division services a range of industrial sectors such as mining, power generation, construction, marine, environmental and more.
Our waste processing solutions include Construction and Demolition waste processing (C&D) , Dry Mixed Recycling (DMR), Solid Recovered Fuel (SRF) waste, RDF waste processing , MSW recycling solutions & more.
We also offer recycling services and recycling machinery like tyre recycling machines, glass recycling machines, industrial composting machines, mobile eddy current separators as well as used recycling equipment for sale. With over 50 years' experience Turmec is dedicated to finding the best recycling engineering solutions for their clients' requirements. Contact us for free expert advice now.