Turmec appoints agency agreement with EGL for Australia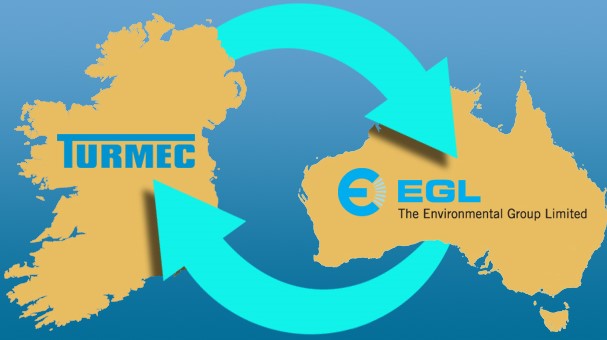 New agency agreement appoints the Environmental Group Limited ('EGL') to represent Turmec in Australia

New agreement will improve customer access to Turmec's innovative waste processing and recycling solutions throughout Australia
Turmec, the market leader in designing, building and installing waste processing and recycling solutions, is excited to announce a new partnership with the Environmental Group Limited ('EGL') to represent it throughout Australia.
Under the new agreement, EGL will promote Turmec products and services, support Turmec in the delivery of turnkey projects and plant upgrades, and play a lead role in supplying equipment spare parts and aftersales service programmes which are a key component of Turmec's product offering.
Commenting on its new agency agreement with EGL, Geoff Bailey, Turmec CEO, said:
"We are delighted with the appointment of EGL as our Australian agents. From their headquarters in Melbourne, they have a presence in every state in Australia which gives Turmec excellent geographic coverage and a solid base from which to grow and service our Australian customer base. EGL has a proud record of customer service and a high performing, professional management team which are the qualities we are looking for in selecting a partner to grow and develop our market presence in Australia."
Jason Dixon CEO of EGL Group, and former Toxfree executive added:
"We are a leading provider of engineering solutions designed to help our customers protect the environment by increasing recycling and reducing carbon emissions. We are always looking to extend our product range and better serve our customers. Turmec's reputation for producing high quality recycling plants makes them an obvious choice to expand our market reach, and specifically in the waste processing sector. We have the sector knowledge and experience to support Turmec sell and deploy its products and services throughout Australia. With this collaboration, we will be able to support our customers with an enhanced range of innovative services and solutions."
About EGL – The Environmental Group Limited ('EGL') has four business units, all committed to the protection of the environment by improving air quality, reducing carbon emissions, enhancing waste to energy production and lifting water quality:
Total Air Pollution Control

has a range of technologies which reduce dust, odours and harmful gasses from the environment.

Baltec IES

produces inlet and exhaust systems for gas turbines, which are used to complement and augment solar and wind energy production, without the use of rare mineral battery resources.

Tomlinson Energy Service

offers a network of service offices across Australia providing 24/7 service, maintenance and repairs of both proprietary equipment and other OEM equipment. The division also provides an essential link in our strategy to build a bio/waste to energy platform.

EGL Water

division continues to develop our patented technologies in conjunction with Victoria University. EGL recognises that one of the world's most valuable assets is water and will persist in our vision to reduce water pollution, leading to an improved environment, through low cost technology solutions.
To learn more about the Environmental Group Limited go to www.environmental.com.au
About Turmec - Established in 1972, Turmec is an Irish headquartered expert in the design, manufacture, installation and servicing of recycling plants and equipment. The business specialises in the end-to-end design and build of complex waste separation and processing systems which are critical for large, efficient waste processing and recycling plants.
Turmec serves the largest waste management companies globally including Biffa, Suez and Powerday, historically across the UK and Ireland, and more recently also in Australia. The business employs [90] people in its headquarters in the Irish-speaking Gaeltacht area of Co. Meath, at Athboy in Ireland, operating from a 66,000 sq ft manufacturing facility and exporting and shipping globally from Meath
To learn more about Turmec, go to www.turmec.com
Turmec design and install state of the art recycling plants for the waste industry. It has been supplying engineering solutions for over 45 years, with a specific focus on waste industry solutions for the past 20 years. Turmec works will all sizes of company, and whether you are a large or small waste and recycling operator we can provide a solution that meets your recovery and return on investment goals and objectives.