Powerday looks to growth of London powerhouse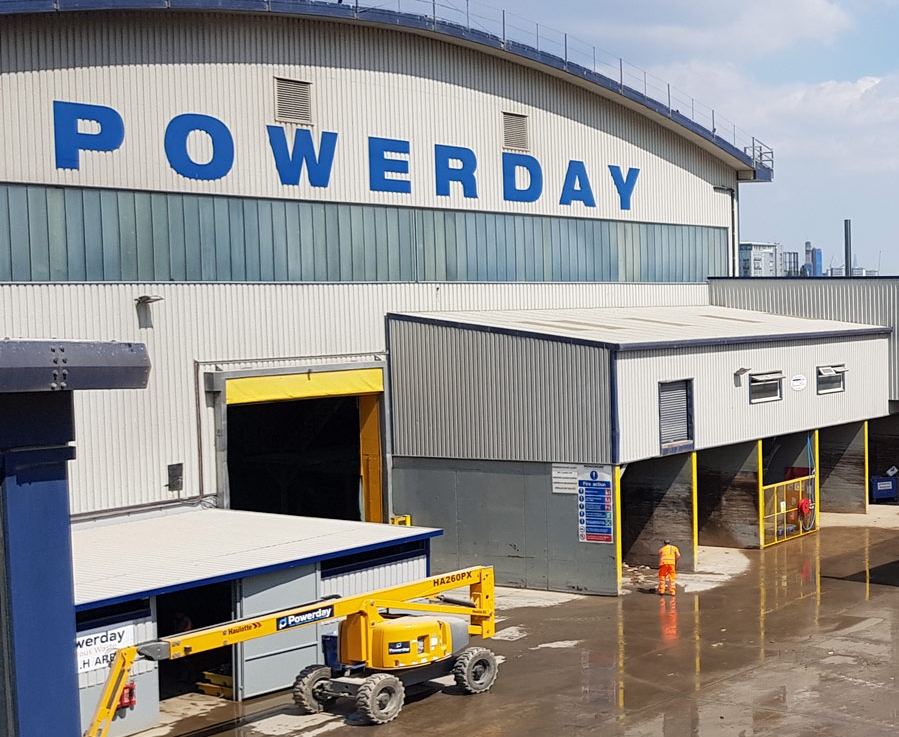 London as a capital city powerhouse, in terms of construction of both commercial developments and new housing, continues to lead the way in UK growth.
In 2014, estimates put London's construction activity at £28 billion, 23% of the UK total and this year that level is forecasted to increase.
Reflecting this, waste volumes are also on the rise in the capital on both construction and commercial and industrial fronts. This all brings waste management opportunities and potential for the development of new facilities as well as the sourcing of recyclables and refuse-derived fuel.
One company which has recognised this is Powerday which has become a large regional player in terms of size and status within the M25.
Its development has been led by Mick Crossan, chairman and owner of the business, who had the initial vision to move it into C&I from its traditional construction roots. The company now looks to be well-placed to further grow its involvement in London's construction and development sectors by handling part of the large waste tonnages arising out of the construction boom and from the commercial and industrial sector generally.
New projects
Mr Crossan says that the company is well-positioned to take advantage of new projects such as the redevelopment of White City, the forthcoming HS2, the Brent Cross scheme and other developments in the north and west London. He sees Powerday as being at "the epicentre of a number of major urban redevelopment schemes. If we weren't here, they would have to manage the waste themselves or export outside of London".
Already, processing volumes into the company's main site Willesden are on the rise from new projects, both through its own traditional collection business as well as from third party suppliers.
The processing site at Willesden is remarkable for its size in an urban environment with two very large processing buildings containing heavy-duty recycling equipment. All this means that a range of materials is recovered for recycling as well as used for the creation of large volumes of RDF.
Much of the latter is currently exported but the domestic market is in Powerday's sights as it has secured a contract to supply the Hoddesdon energy from the waste plant being developed by AssetGen Partners. While the plant will not open until 2017, Powerday is already a significant producer of RDF at Willesden for the domestic and export markets.

"We aim to maximise recovery of recyclable material as well as produce a quality RDF for the energy sector"
Mick Crossan
Chairman, Powerday
Mr Crossan explains: "We aim to maximise recovery of recyclable material as well as produce a quality RDF for the energy sector. We always aim to maximise diversion from landfill to satisfy our clients and achieve a high level of recycling. We produce a high-quality residual material and from this, we can make RDF and SRF to various specifications to meet the needs of our energy clients here and abroad".
Now on the horizon is the development of another processing facility similar to Willesden at Enfield, north-east London. Due to open this summer, the new facility will be able to handle about 330,000 tonnes of material a year.
Enfield
The Enfield facility is on a site where Powerday has traditionally operated a transfer station, and where additional land has since been secured. Powerday's Managing Director, Mark Bensted says he is pleased with the speed of the project and the smooth planning process which saw the plant granted permission. "Enfield council recognised the strategic fit with their own economic and environmental development objectives in the waste and green energy sectors, so have been supportive throughout."
The new Enfield plant will have a state-of-the-art kit with, explains Mr Bensted, a lot of research and development has gone into the design of the new facility as well as having drawn on experiences gained at Willesden. The specialist MRF design/supplier is Turmec of Athboy, near Dublin which has worked with Powerday over many years.
On the RDF side, Powerday will be supplying the Hoddesdon 'energy from waste' plant which is under development. It will have a capacity of 90,000 tonnes p.a. and the company will be sending about half this input in balance with Biffa which will be supplying the rest, all material being to a very tight specification.
Powerday is also currently supplying 'commissioning tonnage' into SSE's new energy plant at Ferrybridge, with potential to enter into a long term supply agreement with SSE, possibly utilising Powerday's ability to transport RDF by rail from its railhead at Willesden.
By processing construction and demolition waste, a reliable, higher calorific value residual material can be produced, says Mr Crossan. This C&D waste typically consists of metals, concrete, bricks, rigid plastics, clean cardboard, plastic film, poorer quality card, wood fragments, with a good 90% taken out for recycling. Residual material from commercial and industrial waste will also feed through to the final RDF, having been processed to recover as much recyclable material as possible.
Mr Crossan reflects that the development of plants within the UK to recover energy from RDF is a good move. "I am very pleased to see RDF coming home. We have lagged behind Europe in its use and they have managed to capture some of the markets. Now we have Hoddesdon and others coming and there is also the MVV plant in Ridham, Kent where we are biomass suppliers."
And Powerday is now assessing the opportunity for the development of its own "mini-energy centre" at Willesden. Mr Crossan says: "The beauty is that we could produce our own energy on site and export any surplus via the grid and theoretically this model could be replicated at other sites."
To see the original article, please follow: Let's Recycle - Powerday
Turmec has over 50 years of experience in the engineering and recycling industries. We plan, consult on design, manufacture and install recycling plant solutions and recycling equipment. Our design engineering division services a range of industrial sectors such as mining, power generation, construction, marine, environmental and more.
Our waste processing solutions include Construction and Demolition waste processing (C&D) , Dry Mixed Recycling (DMR), Solid Recovered Fuel (SRF) waste, RDF waste processing , MSW recycling solutions & more.
We also offer recycling services and recycling machinery like tyre recycling machines, glass recycling machines, industrial composting machines, mobile eddy current separators as well as used recycling equipment for sale. With over 50 years' experience Turmec is dedicated to finding the best recycling engineering solutions for their clients' requirements. Contact us for free expert advice now.