C&D sorting plant completed at RM Penny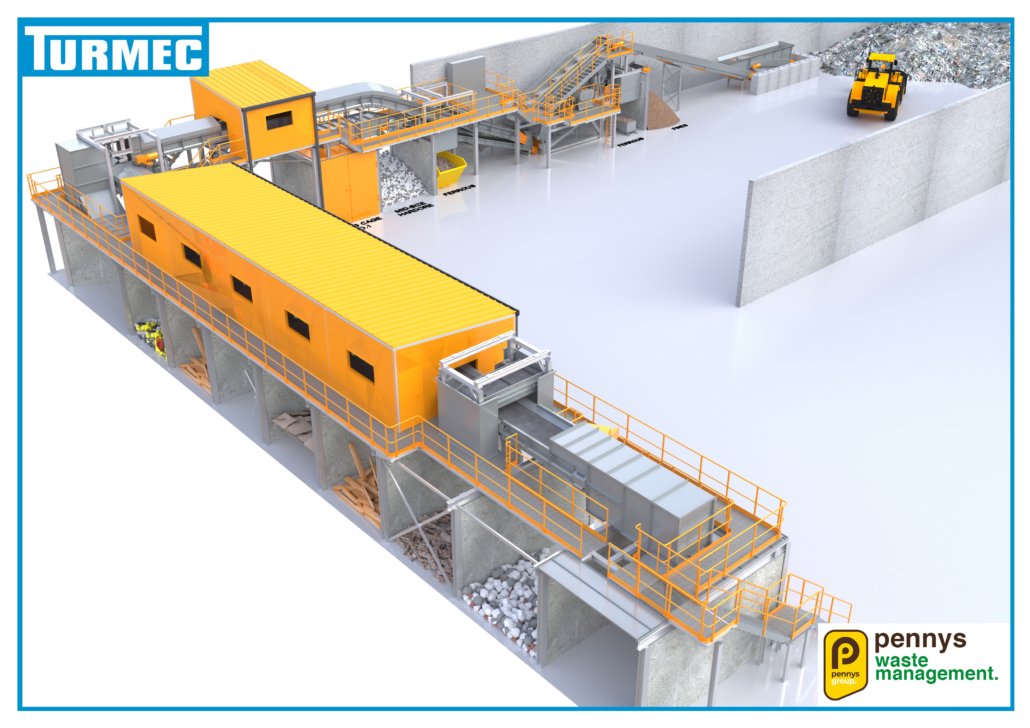 November 2020 Turmec completed installation of a recycling plant for RM Penny Plant Hire and Demolition's business based in Wells Somerset.
The plant Turmec has supplied to RM Penny is designed to process 20 tonne per hour of construction and demolition waste and will recover valuable recyclates such as wood, hardcore, soils and metals thus will improve the environmental credentials and ultimately profitability for Pennys Group.
RM Penny, who has being in business for over 60 years, has grown to be one of the South West's major contractors for demolition, earthworks and waste management services
The decision to build this plant was a major step change for the company as RM Penny's Tom Brimble explains "This plant will mark a new chapter in the growth of the company enabling RM Penny to process more material in a more cost effective way and divert more waste from landfill.
Before the plant, we had to sort materials at site using mobile equipment and hand sorting where recovered materials were handballed into skips for other contractors to take away. This way of working was expensive, especially when we were working on our client's sites and we weren't getting the best value from either the process or the recyclates, so something had to change". Tom Brimble also commented that by "removal of the majority of sorting on site it has enabled Penny's to reduce site labour which ultimately makes our sites safer too"
Trevor Smart, Turmec UK, says of winning this contract from RM Penny: "We are delighted to be building this plant for RM Penny. The market for plants of this scale is extremely competitive and it isn't about price alone, RM Penny recognised the high quality materials and equipment used in the design of the plant, a key factor to ensuring a high performing plant with minimal downtime and capacity for future expansion.
At the centre of this plant is a double deck screen from Austrian screen suppliers, IFE Bulk, which gives the plant the capability to process a wide range of materials with sufficient capacity for RM Penny's business to grow. "if there was one item of plant neither Turmec or RM Penny wanted to compromise on, it was the screen. The screen is the heart of the process" says Trevor Smart. "
So we at Turmec would like to Thank RM Penny for trusting us with the designs and equipment to make this happen. We look forward to building on this investment with Tom and his team and helping them achieve their recycling and profitability goals into the future